Avocado oil: the science behind this miracle oil for skin
Avocado oil: the science behind this miracle oil for skin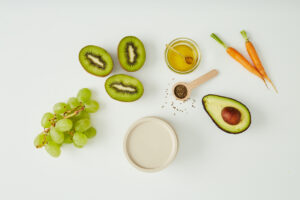 Is there anything this wonder fruit can't do? Whether you smear it on a piece of toast or use its oil for cooking, the uses and benefits of avocados are endless. But it doesn't stop there. As it turns out, avocado oil is a superfood for the skin. If the avocado is the wonder fruit, consider avocado oil the wonder juice.
As if you weren't already avo-obsessed enough, dermatologists also swear by it. Keep reading to discover why avocado oil is a top-shelf ingredient for your overall skin health regime.
What is avocado oil?
At peak ripeness, avocados contain a high level of oils. This oil is then extracted from the pulp of the fruit, similar to the process of olive oil extraction. It's edible both raw and cooked and is commonly used to treat skin conditions. Avocados act as a multivitamin super supplier (potassium, sodium, magnesium, vitamins A, C, and K, folic acid, vitamin B6, and niacin), and the oil it produces has strong antioxidant properties and a high concentration of monounsaturated fat (the good kind).
Avocado oil for skin: passing fad or forever trend?
But doesn't oil cause breakouts? We may have been taught from our adolescent years that oil is the enemy, but top dermatologists say an oil-based skincare routine isn't just a passing trend. Oil actually absorbs oil, along with unwanted dirt and grime, and works in parallel with the natural oils of your skin to cleanse, clean, and nourish.
What are the benefits of avocado oil for skin?
A superfood for your skin, this miracle oil contains a whole line-up of vitamins, antioxidants, and healthy fatty acids. When applied topically, avocado oil has the power to replenish and restore the natural beauty of your skin.
Provides rich hydration
Rich in vitamins A, B, C, D, and E, plus beta carotene and oleic acid (to name just a few), this precious oil is best known for its incredible moisturising power. Its lightweight texture allows the enriching compounds of the oil to penetrate deep into the skin to support moisture balance, lock-in hydration, and promote bright and supple skin. All without leaving a greasy film on your face.
Anti-acne & anti-aging
The anti-inflammatory properties of vitamins C and E mean avocado oil is great for blemishes and acne-prone skin. And the anti-aging benefits are second to none thanks to an army of carotenoids and antioxidants. Naturally talented at neutralising free radicals, these potent nutrients help fight the signs of aging, like fine lines, uneven skin tone, and dark spots.
Accelerates wound healing
According to one study, the essential fatty acids and oleic acid found in avocado oil can promote collagen synthesis, which helps to create new connective tissue in the skin. It was also found to help reduce inflammation during the healing process.
Promotes collagen production
Collagen plays a major role in strengthening our skin, and may also benefit elasticity and hydration. The healthy fats found in avocado oil enhance cell turnover and boost collagen production. This allows for your skin to strengthen, heal, and rejuvenate itself, leaving you with your healthiest complexion, naturally.
Helps to treat scalp dryness
This potent oil has also been proven to boast fungicidal and antibacterial properties. This can majorly benefit skin conditions where there is an imbalance of the microbiome on the surface of the skin, such as seborrheic dermatitis which can manifest as scalp dryness/flakiness. Dermatologists have found that, when used in tandem with medications, the moisturising benefits of the oil can drastically help to relieve the symptoms of these conditions.