Chances are, you already have a skincare routine that you follow morning and night (we hope!) But did you know that your skin's needs in the morning are actually quite different to your skin's needs at night? 
To get the most out of your skincare, your morning routine should be a little different to your routine at night. But don't fret, it doesn't have to be complicated. While all skin is a little different, the following is a great place to start.
The Morning Routine
The purpose of the morning skincare routine is to create a clean, hydrated complexion and protect your skin while you're out and about.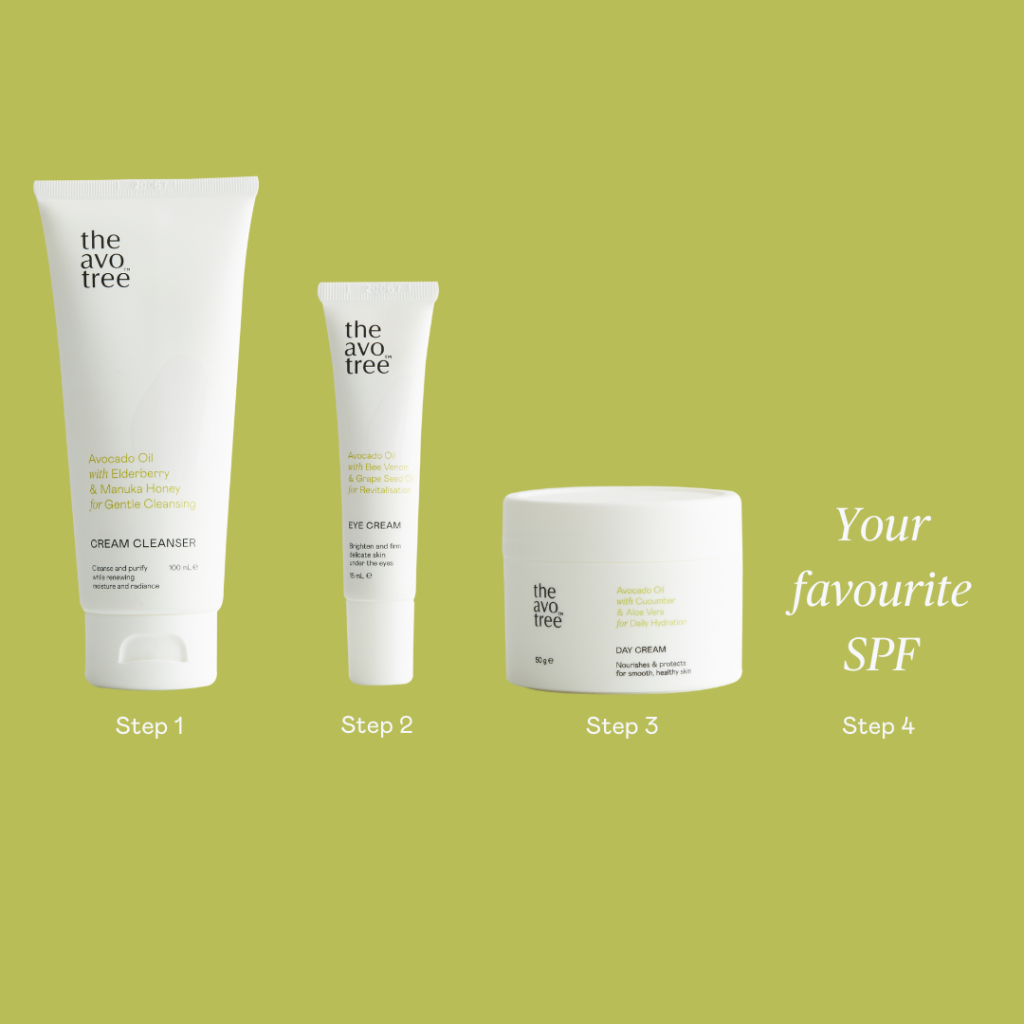 Step 1: Cream Cleanser
A gentle cream cleanser should refresh the skin without stripping it, and leave your skin feeling clean, soft and balanced. Our Cream Cleanser with Avocado Oil with Elderberry & Manuka Honey also helps to fight blemishes and boost radiance thanks to the powerful blemish-fighting properties of Manuka honey and free-radical-fighting actives in elderberries.
Step 2: Eye Cream
As the next step in your morning routine, a good eye cream helps to brighten the delicate skin under your eyes and reduce puffiness, helping you to look refreshed and awake to take on the day. Our Eye Cream with Avocado Oil with Bee Venom & Grape Seed Oil is enriched with age-defying antioxidants, plus rejuvenating omega-6 and vitamin E, avocado oil to help strengthen and regenerate skin that enhances the natural beauty of your eyes.
Step 3: Day Cream
A nourishing day cream is essential for locking in moisture and helping your skin to stay smooth, hydrated and healthy all day long. Our Day Cream Avocado Oil with Cucumber & Aloe Vera is powered by nourishing avocado oil, which is rich in vitamins A, D & E to soften and rejuvenate skin, while protecting against free radical damage. 
Step 4: Your Favourite SPF
SPF isn't just essential on beach days, wearing sunscreen daily is one of the easiest—and most important—ways to protect your skin at any age. Apply your pick as the final step of your morning skincare routine to protect your skin from harmful UVA and UVB rays, even on cloudy days.
The Night Time Routine
Your nighttime skincare routine should focus on removing makeup and SPF, and repairing and rejuvenating your skin while you sleep. They don't call it beauty sleep for nothing.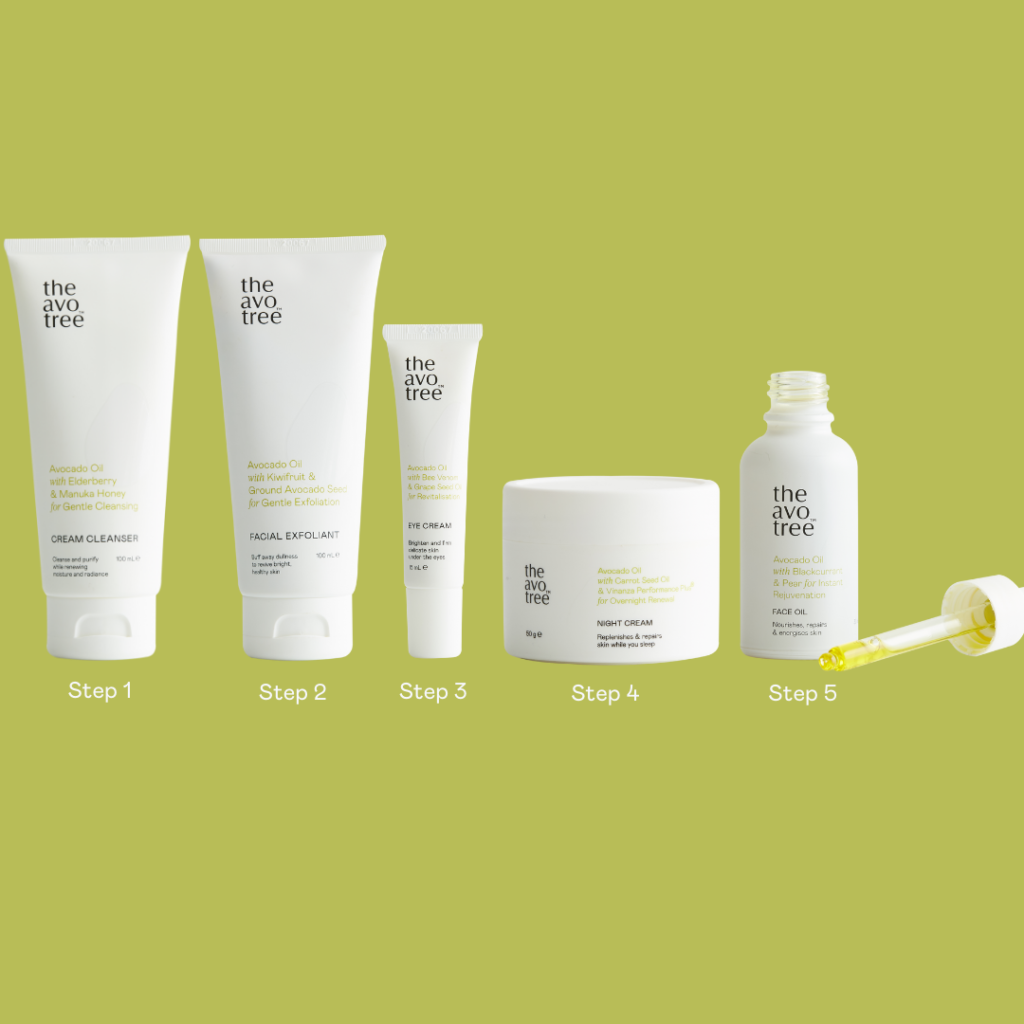 Step 1: Cream Cleanser
First things first you'll want to take off the day with a gentle cream cleanser to remove all traces of sunscreen and makeup. Cleanse thoroughly with a gentle yet effective cream cleanser, such as our Cream Cleanser with Avocado Oil with Elderberry & Manuka Honey.
Step 2: Exfoliant
For a deeper cleanse, adding in a gentle exfoliant a few times a week helps to lift dead skin cells and revive and nourish skin beneath it.This also allows your active ingredients to penetrate deeper and work harder – win! Our Facial Exfoliant with Avocado Oil, Kiwifruit & Ground Avocado Seed delivers a powerful line-up of antioxidants and vitamins A, C, D, E & K to gently buff and brighten the skin to leave you with a healthy, even-looking complexion.
Step 3: Eye Cream
Like a gentle cleanser, eye cream is best used twice daily, to keep the eye area nourished and hydrated day and night. The bee venom in our Eye Cream with Avocado Oil with Bee Venom & Grape Seed Oil works to stimulate collagen production while you sleep, the key to maintaining healthy, youthful skin.
Step 4: Night Cream
A good night cream is worth its weight in gold. Best applied to cleansed and gently exfoliated skin, night cream repairs and replenishes skin while you sleep. Our bestselling Night Cream with Avocado Oil, Carrot Seed Oil & Vinanza Performance Plus® is intensely rejuvenating, loaded with vitamins A, C, E & K from avocado and carrot seed oil as well as Vinanza Performance Plus® – an advanced antioxidant-rich blend of kiwifruit and grape seeds that's scientifically shown to improve moisture and reduce redness.
Step 5: Face Oil
Contrary to what we may have been told about oils, a high quality facial oil really is the elixir of a healthy complexion. A few drops patted into the skin as the final step of your night time routine helps to lock in the goodness from your other products, strengthen the skin and reduce fine lines. Our Face Oil with Avocado Oil, Blackcurrant & Pear contains naturally active antioxidants that help brighten and energise the skin, while preventing cell damage. It's seriously hard working.